We stand with Turkey & Syria
We stand in solidarity with the families of the earthquake victims in Turkey and Syria. We especially share the pain of our students whose loved ones suffered in the disaster. We would like to inform you that regular students can apply for financial aid (in Polish Wniosek o zapomogę)*. To get it, you need to submit the appropriate application in the USOSweb system under COMMON SECTION > APPLICATIONS > WNIOSEK O ZAPOMOGĘ.
*The aforementioned financial aid cannot be granted more than twice in a given academic year (only once for the same reason). Additionally, those students who already have a BA degree (and are pursuing another BA program) and a MA degree, cannot apply for the financial aid.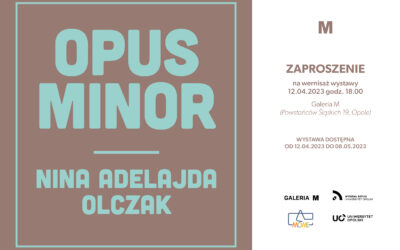 We are excited to invite you to the new exhibiotion at Gallery M (ul. Powstańców Śląskich 19) in Opole. The artist Nina Adlejada Olczak will present her works at the show titled Opus Minor. Nina Adelajda Olczak (*1980, Świecie, Poland) is a performance and new media...