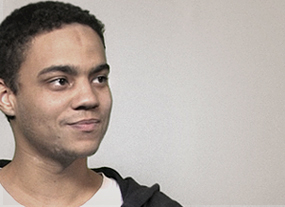 What are you enjoying the most in Opole?
Meeting new interesting people from abroad and Poland is the most important thing I enjoyed in Opole.
Where do you hang out in Opole? What do you do there?
Mostly at Cina Club, because it's really near from main university campus, but also other places like Aqarium Club, long walking next to Odra River and lake located near from here.
Why did you choose Opole University for Erasmus?
I have friends who had been here in Opole last year and they said that it was a great experience, they recommended me this university, so I wanted to try out.
What are you interested in? Tell us about your hobbies.
I am interested in music and reading books or some scientific works. I play the guitar, I like fotball and listening to music especially progressive rock, alternative rock and classic rock.
What are your plans for future, after you graduate?
Hopefully, I'm going to do my master degree and after that I'm gonna work somewhere except from Greece, because I have lived there for 23 year so it's enough (laughing). I would like to live in England, because my mum is from Liverpool, so it will be easier for me to start with my career there.
How do you like the classes at the university?
The classes are very good, all of the professors are very good from scientitic poinf of view, they are kind and helpful in many situations and I have a good time in Opole.
What is your favourite place in Opole?
I don't have any, I like all of the places.
Sebastian
Ποια δραστηριότητα σου άρεσε να κάνεις περισσότερο στο Οπόλε?
Να γνωρίζω ανθρώπους από διαφορετικές χώρες , ήταν αυτό που μου άρεσε περισσότερο να κάνω στο Οπόλε
Που συνήθιζες να βγαίνεις στο Οπόλε?
Κυρίως στο Cina club, καθώς βρίσκεται κοντά στο χώρο του πανεπιστημίου, αλλά πέρα από αυτό ήταν ωραίο μέρος και το Aquarium. Ενώ για βόλτα ήταν πολύ ωραία να περπατάς παράλληλα από τον πoταμό Odra, που επίσης βρίσκεται κοντά στο πανεπιστήμιο.
Γιατί επέλεξες το πανεπιστήμιο του Οπόλε?
Είχα φίλους που είχαν έρθει στο Οπόλε και μου είπαν ότι πέρασαν πολύ ωραία, οπότε μου το πρότειναν και ήρθα.
Ποια είναι τα ενδιαφέροντα σου?
Ακούω μουσική κυρίως progressive rock, classic rock και alternative rock , μου αρέσει το διάβασμα, κυρίως με επιστημονική θεματολογία και παίζω κιθάρα. Από εκεί και πέρα παίζω ποδόσφαιρο όσο συχνά μπορώ.
Ποιά είναι τα σχέδια σου για όταν αποφοιτήσεις?
Ελπίζω οτι θα μπορέσω να κάνω μεταπτυχιακό στο εξωτερικό και στην συνέχεια να εργαστώ οπουδήποτε πέρα από Ελλάδα, διότι έχω ήδη ζήσει 23 χρόνια Ελλάδα και νομίζω ότι είναι αρκετά. Θα ήθελα να ζήσω στην Αγγλία, καθώς μητέρα μου είναι από το Liverpool και θεωρώ ότι θα μου ήταν πιο εύκολο να ξεκινήσω από εκεί.
Ποια είναι η άποψή σου για τα μαθήματα εδώ?
Τα μαθήματα εδώ είναι πολύ καλά και οι καθηγητές είναι επίσης πολύ καλοί, από επιστημονική άποψη. Είναι καλοί μαζί μας και μας εξυπηρετούν πάρα πολύ. Γενικά περνάω πολύ όμορφα στο Οπόλε.
Ποιο είναι το αγαπημένο σου μέρος στο Οπόλε?
Δεν έχω κάποιο ιδιαίτερο μέρος. Μου αρέσουν όλα τα μέρη.
Sebastian