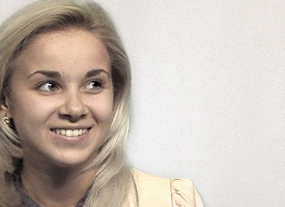 What are you enjoying the most in Opole?
I'm enjoying that all of the polish people are very open minded and social.
Where do you hang out in Opole? What do you do there?
I like to spending time with my friends, walking and find out about many new things in Opole.
Why did you choose Opole  for stay?
Opole is very nice city, I like to be here.
What are you interested in? Tell us about your hobbies.
My hobbies are dancing and singing.
What are your plans for future, after you graduate?
I would like to stay here and maybe I will start study german philology.
How do you like the classes at the university?
I learning a lot, so they are very useful.
What is your favourite place in Opole?
Whole city center.
Irina
Что тебе нравится больше всего в Ополе?
Мне нравится, что все польские люди очень открытые и общительные.
Где ты проводишь время в Ополе? Чем ты там занимаешься?
Мне нравится проводить время с моими друзьями, гулять и находить что-то новое в Ополе.
Почему ты выбрала  для проживания город Ополе?
Ополе замечательный город, мне нравится быть здесь.
Что тебя интересует? Расскажи нам о своих увлечениях.
Мне нравится танцевать и петь.
Каковы твои планы на будущее, после окончания университета?
Я хотела бы остаться здесь и, может быть, начать изучать немецкую филологию.
Тебе нравятся занятия в университете?
Я многому учусь, по-этому они полезны.
Какое твое любимое место в Ополе?
Весь центр города.
Irina