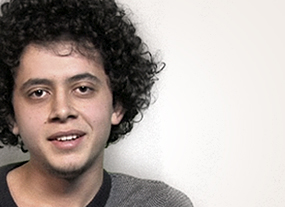 What are you enjoying the most in Opole?
People from here are completely different than turkish people. Most of you are very calm, I mean, when I came here I realized with compare to polish people, that we- turkish people, are living too fast, we are hurry everyday and we try to do everithing faster. You are very friendly people, if you know other languages you are not shy to use them and I had many possitive situations, when I went somewhere and talked to me something in polish and I didn't answer people started to talk with me in anglish and it wasn't just "hello, you'are Turkish', so I can say that you are open for other people from many cultures. Too shame that you don't have in Opole pubs with life music only some days in month with karaoke. But Opole is really cheap for me, so it's good to stay here for study.
Where do you hang out in Opole? What did you do there?
I like going to some pubs and clubs here.
Why did you choose Opole University for Erasmus?
I had opportunity to go to many places for Erasmus, but I decided to go to Opole and I'm sure that it was my best choice, I'm really happy to be here, everything is located very near. After I came here I realized that Opole is quite simillar with my hometown and there are a lot of places where is really calm and quiet. Many of my friends are asking me about Opole and I'm saying that they have to come here and I mostly recommend here.
What are your plans for future, after you graduate?
My plan for the future is to be teacher at the university.
How do you like the classes at the university?
Classes are nice, interesting and connected to with my studies.
What is your favourite place in Opole?
It's Maska, club and restaurant in one place, you can eat there many delicious food, drink some good drink, listen to great music in one time and in the evenings they organize some parties.I've been in Cina Club a few times, but it's actually not my thing to spending time there.
Burak
Opole'de en çok neleri beğendin ?
Polonyalılar, Türkler'den oldukça farklılar. Kıyaslama yaptığımızda, birçoğunuzun oldukça sakin bir yaşantısı var, yani ben buraya ilk geldiğimde anladım ki biz Türkler oldukça hızlı yaşayan bir milletiz. Her günümüz bir telaş içinde ve çok aceleciyiz. Arkadaş canlısı insanlarsınız, yabancı bir dil bildiğinizde bunu kullanmaktan çekinmiyorsunuz bu güzel. Fakat Opole'de İngilizce bilen birini bulmak zor olabiliyor. Birçok olay başıma geldi. Örneğin bir yere gittiğimizde insanlar bazen İngilizce konuşmamıza karşılık ısrarla Lehçe konuşuyorlar buda iletişimi zorlaştırıyor. Opole'de bazı zamanlar karaoke geceleri dışında canlı müzik geceleri düzenleyen bir bar olmaması çok kötü. Fakat Opole gerçekten benim için çok ucuz bu yüzden burada eğitim için kalmak güzel.
Opole'de nerelerde takılırsın ?
Bazı barlara ve klüplere gitmeyi severim.
Erasmus için Opole Üniversitesini niye seçtin?
Erasmus için farklı seçeneklerim vardı elbet fakat ben Opole'yi tercih ettim. Eminim ki bu benim için en doğru seçenekti. Çünkü Opole konum olarak diğer büyük şehirlere oldukça yakın bir yerde. Buraya geldikten anladım ki Opole benim üniversitemin olduğu şehire oldukça benzer bir yapıda. Birçok arkadaşım bana Opole hakkında sorular soruyorlar ve hepsine buraya gelmelerini tavsiye ediyorum.
Mezun olduktan sonraki planların nedir?
Mezun olduktan sonra üniversitede öğretmen olarak kalmayı istiyorum.
Sınıflardaki dersleri nasıl buldun?
Sınıftaki dersler güzel ve bölümümle ilişkili.
Opole'deki favori mekanın neresi?
Favori mekanım 'Maska'. Restorant ve bar bir arada. Müzik eşliğinde lezzetli yemekler yiyip, sohbet sırasında çay-kahve-alkol içebilirsiniz. Cina Clup'da birçok kez bulundum fakat aslında klüpte zaman öldürmek çok benlik bişey değil.
Burak