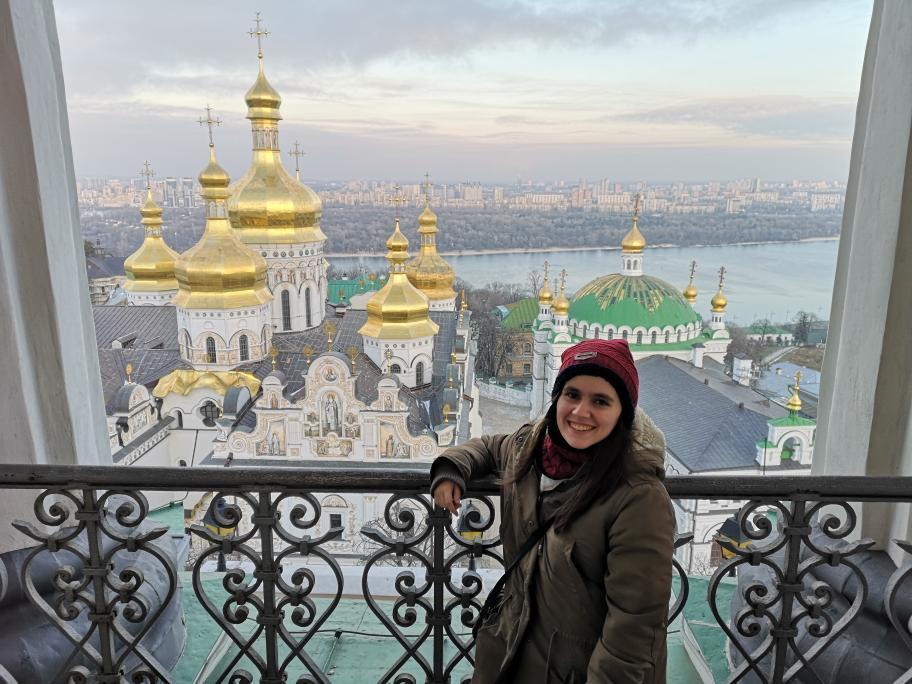 My Erasmus Adventures
Let's have a trip to Kiev with Vanesa!
Today we are talking to Vanesa who chose Opole as her Erasmus destination. She is 20 years old and comes from the north of Spain. In Poland she spent one semester studying journalism and as she says "I would repeat this experience whenever I could because living in Opole and getting to know and meeting all the people there was an incredible experience". In the end of her Erasmus she decided to go on a trip to Ukraine with her friends! Let's see how she spent her time there 🙂
Hello Vanesa! I would like to ask you what prompted you to choose Kiev as your last Erasmus trip? Was it hard to get there?
Hello! My Erasmus was coming to the end, but I still wanted to go to Ukraine, because from Spain it's a long way to get there. That's why I talked to my friends and we have found a cheap trip. It wasn't hard to get there. We took a train from Opole to Katowice and from there a plane to Kiev and on our way back we did the same. We were delayed because the weather was very bad and they had to remove the ice from the plane but it was about 7:00 in the morning so we kept sleeping.
How long did it take to arrive in Kiev from Opole? Were the train and flight ticket expensive?
The flight from Katowice to Kiev was 1h 50 and the same amount of time with the train from Opole to the airport in Katowice. The round-trip plane ticket costs us 29 euros and the train about 7 euros round trip, too.
What kind of accommodation did you have and how much did it cost?
We have chosen to stay in an apartment, in case we wanted to buy something at the supermarket and cook or have a breakfast prepared on our own. The apartment cost 55 euros for three of us, so about 18 euros each.
When have you been there? What was the weather like at this time?
We went to Kiev in January, which is one of the coldest months and the truth is that you should have very warm clothes. We had thermal clothes, caps, scarfs, gloves and it was still cold. It was snowing a little but it didn't rain. That is why it's better for you to take your winter clothes.
Is it an expensive city?
Compared to Spain it was very cheap, I would even say that Kiev is cheaper than Poland. Even though, you have to know the exchange rate very well because not everything is cheaper, but most things are.
What did you visit in Kiev?
We visited the most popular places like St. Andrew's Church, St. Nicolas Cathedral, St. Miguel Cathedral, Santa Sophia Cathedral, Kiev Cave Monastery, where me and my friend Rosa had to put on a skirt and a turban on our hair to cover ourselves, and we walked inside a cave alone with the light of a candle. We visited also Maidan Nezalezhnosti, Za Dvumya Zaitsami Monument, Hetman Bohdan Khmelnitsky Monument, Golden Gate, People's Friendship Arch and the Statue of the Motherland.
What do you like most about this place?
What I like most are its monuments and history. The appearance of each monument, how it is cared for and that everything has a meaning. The colors, the figures, the culture, the food… I like everything I have seen. I would repeat it without hesitation, but next time I would stay there for a longer time! 🙂
What do you recommend to eat there?
We went to a restaurant with a typical Ukrainian food with very low prices, but unfortunately I don't remember the name. We also had the opportunity to try Georgian food, as there were many bars serving this food. The truth is that if you go to Kiev, you have to eat both: the Georgian and the typical local food.
What in your opinion is the must-drink alcohol?
We didn't go out to party, because we had to get up very early to not be late for a city tour and it was very cold, too. But when we went to drink something, we tried a beer that they said it was typical there with honey inside. The truth is that it tasted good and what's important, it was cheap 😀
What you should not do in Kiev?
You shouldn't get lost, because everything looks very similar and it is easy to get lost. Also I don't know if it was a coincidence, but almost nobody spoke English and we could hardly communicate. Therefore what you shouldn't do is go without Internet to be able to use Google maps. And always try to carry cash because on the street markets they charge you more when you want to pay with a card.
Do you recommend to visit this place? Why?
I recommend to visit Kiev, because it is a very different culture from ours, I mean a different way of life. It is a very historical place, you can learn many things that you haven't been told about in the past. Visiting different things comparing with these you are used to is always a good idea. I liked it very much, because I really like history and I didn't know anything about this country's history, so it was very interesting for me. I have spent there only two days, but I should have stayed longer!
Thank you Vanesa for your interesting story and for every tip you gave us!
Do you want to share your story? Contact us on erasmus@uni.opole.pl or hello@uni.opole.pl 🙂