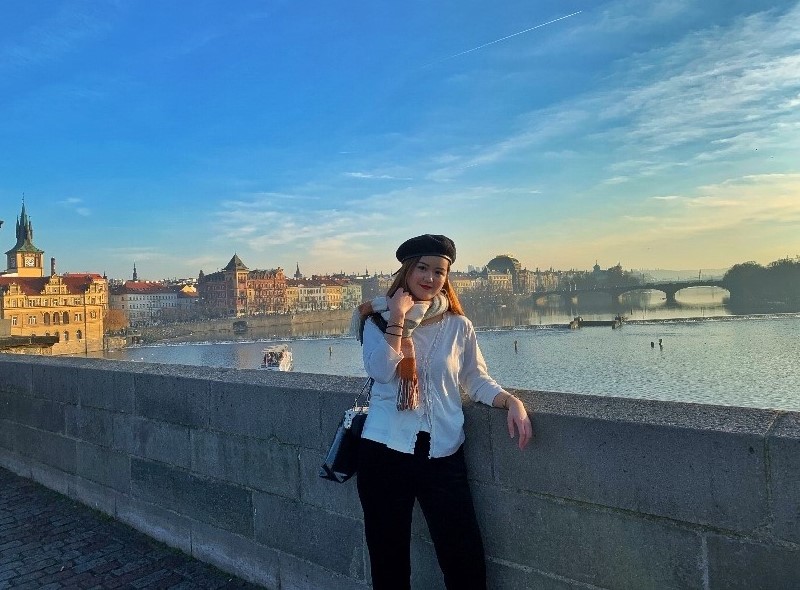 Studying in Opole
Story of Nomi
Today our guest is 21 years old Nomi from China. Her real Chinese name is WuYuting, but she called herself Nomi, because she really loves this name and also this name is easy for everyone to remember. In China she studied international logistics management which she has already finished and here in Poland was her last year at the university. As Nomi said "One year in Poland just passed by. Looking back, I couldn't be more grateful, thankful and emotional at this moment thanks to all these amazing experiences and adventures I've had. My mind is filled with a million of thoughts and feelings reflecting upon all what happened here. I just fell in love with Poland and I'm very thankful to all of my friends who came to my life."
Let's read about her experiences in Poland!
Why did you decide to come to Opole as an exchange student?
To be honest, the idea of coming to Poland for one year to study, which is an exchange program between my home university and the University of Opole, it was just an impulse. Europe was always my dreamland since I was a child. This exotic continent for me is full of wonder, elegance and romance. So when I saw this study-in-Poland poster-board the other day at my university, I just made up my mind to come immediately. Poland is a good and beautiful country which is right in the middle of Europe and everything is quite comparatively cheap. Plus I have always heard that in Poland there are the most beautiful girls in the world, haha. That's the story of the reason why I came to this country and I will never regret this decision.
What do you think about Polish people?
Polish people in general are very nice and helpful. If you have any problems don't hesitate to ask them. One thing I discovered is that they are not very good at showing and expressing their feelings out to people, but I think it's because of the culture. Some people are not that easy to get along with or to be close with. Maybe because of the language barrier they are a little bit too shy to express their emotions. During this year almost all Polish people that I had a chance to meet were really very kind, warm, thoughtful, considerate, funny and sweet, especially those girls I met. Also buddy mentors who are always there for us, trying to solve all the problems we met.
What is in your opinion the most delicious Polish food?
When it comes to Polish food, the first thing that comes to my mind and I think for everyone is the same –> Pierogi of course! And if you had a chance to try the authentic ones, you are definitely going to love them! The one I have tried in the Old Town in Wrocław and at home of one of my Polish friends were really savory and tasty! The other meal that I really like and I can recommend is barszcz, which is a soup with small dumplings inside – Polish people usually eat this during Christmas. I would recommend also a delicious apple pie – I would never say 'No' to sweets and cakes haha!
What do you recommend to do in Opole?
In Opole there is a nice lake, river and forest, where you can go if you are a nature lover. Unfortunately, I didn't explore a lot in Opole as I was travelling during winter and Christmas holidays or some weekends.
I know that you had a chance to spend Christmas with Polish family! How was it?
Yes, that's true! That was a very cherish and unforgettable experience to spend Christmas with Wiktoria, who is my best Polish girl and her whole family. It was my first Christmas experience because in China we don't officially celebrate it. Wiktoria invited me to visit her at her home to spend several days with her families and friends as well , which was such a great time for me! I was so attracted and overwhelmed by all that good Christmas atmosphere, all the decorations, candles and of course Christmas feast, it was so delicious I was so full ! Thank you Wiki, my friend!
What in your opinion are the must-see places in Poland?
I think there are quite a lot of must-see places in Poland as long as you want to discover beautiful places. Gdańsk, which is in the north of Poland where you can see the beautiful Baltic Sea. Warsaw, the modern capital, where you can find a great number of interesting things to do. And of course Kraków – a city that nearly all of my friends consider as the best city in Poland, however, I haven't been there yet, but I'm planning to go there soon before I go back to China! And Zakopane, with mountains where you can go skiing in winter and climbing in summer! There you can find also lakes and rivers as well.
What is the best Polish alcohol?
I'm not that party person, unfortunately haha, but everyone knows that Vodka is a must-drink in Poland and you won't miss it in any party. Especially, when it comes to birthday or hanging around with friends parties 😀 Actually, here in Poland you can also find very cheap wine, champagne or some Spanish drinks. Comparing to China, the prices of drinks here in Poland are much cheaper. As l am a wine lover it's really good for me, haha.
What about studying at the University of Opole? Are classes hard? Is it hard to pass? And what about teachers – are they helpful?
Classes that I took here are quite interesting and not that hard, because I could manage all of them. Professors are nice and passionate enough, always there for us if we have questions or problems. They are like mentors and friends. All of them are really easy to get along with and can be our friends.
Is it hard to communicate with Polish people in English? Do they know English or foreigners should speak at least a little bit Polish?
Yes, in Opole it's quite difficult to communicate with local residents especially in shops and supermarkets but not with all of them it's so hard. Some Polish people can speak quite good English, but it all depends. I know that Opole is not a big city and recently more foreigners and international students came here so they are still in the process of getting used to the city transformation and upgrading. They need time to adapt and pick up English as soon as they can.
Would you recommend to others to come to study in Opole?
Yes, I would definitely recommend to others to come to the beautiful country of Poland if they would only have a chance. I'm sure they will fall in love with this country.
 Do you want to share your story? Contact us on erasmus@uni.opole.pl or hello@uni.opole.pl 🙂