Erasmus in Schools
Erasmus Programme
Erasmus in Schools is an opportunity for every International Student at the University of Opole to share his/her culture with local high school students. The main idea of this social event is to ruin the stereotypes about different cultures, to encourage young people to participate in Erasmus programme and to build a connection between different cultures.
So far, we cooperated with the High School number 5 in Opole,  in particular with the teacher of English – Elzbieta Olak-Posacka. Every event is supervised by our Buddy Mentors who introduce international students to the class and also share information about Erasmus programme and opportunities to go abroad to study as well as the possibility to join Buddy Programme during their study years at the university.
The pioneers of the project were our friends from Turkey – Eyüphan Şablalı and Yunus Emre Gengeç who on the 23rd of November visited the high school and introduced their culture to the youth. High schools students were amazed by typical Turkish food, beauty of the country and were curious to find out more.
Following Turkish culture, on the 27th of November Spain was introduced by Ciro Fernández Briones and López Díaz Seni. The high school students were in love with Spanish landscapes and even boasted with some Spanish words they know. Ciro and Seni not only shared some interesting facts about Spain and traditions typical for their culture but also presented current problems of corruption, politics and restriction on the freedom of speech.
On the 29th of November, our international student from Mexico – Alexa Villegas kindly agreed to participate in the project. Students were very much involved and eager to hear about Mexican culture, traditions, typical food and asked plenty of questions.
We expect more people to participate in the project as we believe that only through the dialogue we can fight stereotypes and prejudices and help our new generation to become more culturally aware.
Author: Nataliia Zalizniak, English Philology, MA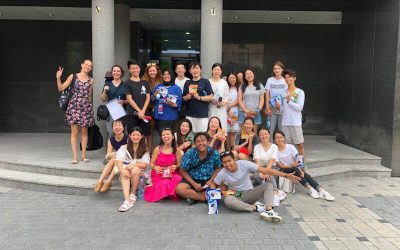 Dear Students, This year, from 12 July to 12 August, the University of Opole is hosting about 70 students from Taiwan, China, and Kazakhstan -  participants of the Summer University 2019 programme. We are very excited and concerned at the same time, as we have...