Intercultural Typography research project
Call for Applications
Dear students,
we are seeking students from different disciplines who are interested in participating in a research project on Intercultural Typography. The work in a form of Erasmus+ traineeship will take place at the Moving.Lab association in Luxembourg and will involve cooperation with different scientific units in Luxembourg, Trier (Germany), Dijon (France) and Opole (Poland).
The aim of the project is to understand the diversity of experiences of using native typefaces (alphabets) in daily digital interactions and switching to latin script and emoji or other different types of representation of language in the relation to the users' identity.
The project will involve, reading, meeting experts, interviewing international students, conducting digital ethnography, making 3 field trips to work with experimental design and intercultural communication students in Trier (Germany) and Esch (Luxembourg).
There are two options of participation, the short and the long one:
From Dec 15 to May 30. It translates into a 550 EUR monthly scholarship (for 5.5 months) – it will include 2-3 major scientific events in Luxembourg and/or nearby Trier and Dijon.
From Dec 15 to Feb 15. It translates into a 550 EUR monthly scholarship (for 2 months) – it will include 1 major scientific events in Luxembourg and/or nearby Trier.
The application should be sent to dr. Michał Wanke (michal.wanke@uni.opole.pl) by Saturday, Dec 8, 23.59 GMT+1 (Warsaw time). Application should include:
Cover (motivation) letter

Short essay about your thoughts and your personal relation to the use of texts, alphabets and fonts (max. 5000 chars.)

A short bio, inc. your educational background, English proficiency level and – if applicable – your BA or MA past/present/future research topics

Please, state in the application whether you are interested in: A) full participation (5.5 months), B) partial participation (2 months) or C) either of the options.
The number of slots is limited.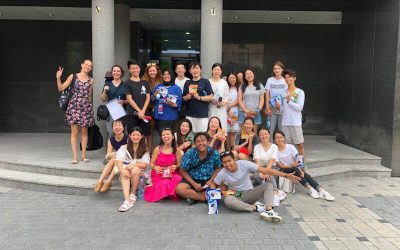 Dear Students, This year, from 12 July to 12 August, the University of Opole is hosting about 70 students from Taiwan, China, and Kazakhstan -  participants of the Summer University 2019 programme. We are very excited and concerned at the same time, as we have...