UO at International Education Fair Perspektywy 2023
On 10-11.03.2023 we took part in the "International Education Fair PERSPEKTYWY 2023", which took place in Warsaw at the EXPO XXI exhibition center.
An employee of our office, in cooperation with the Office of Marketing and Public Relations, presented our University's offer of studies and provided hundreds of individual consultations on majors tailored to the personal interests of visitors to the Opole University stand. Majors such as Computer Science, International Relations, English Philology, Artistic Education in the Visual Arts and Cosmetology were the most popular with foreign visitors. We received many questions about accommodation on campus and optional activities, such as study circles, sports sections, etc. In addition, we gained valuable contacts with people with whom we intend to cooperate in future admission and international projects.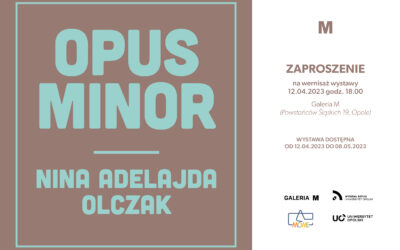 We are excited to invite you to the new exhibiotion at Gallery M (ul. Powstańców Śląskich 19) in Opole. The artist Nina Adlejada Olczak will present her works at the show titled Opus Minor. Nina Adelajda Olczak (*1980, Świecie, Poland) is a performance and new media...