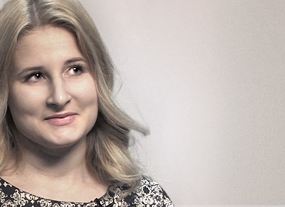 What are you enjoying the most in Opole?
If me or my other friends from Ukraine have any trouble, polish people are very helpful and kind, so all of the city is very friendly.
Where do you hang out in Opole? What do you do there?
I like going dancing.
Why did you choose Opole University for your stay?
I decided to study in Opole, because it was a city with lots of perspectives and diploma which I will get after end my graduation in Opole will be very important and highly valued in Ukraine.
What are you interested in? Tell us about your hobbies.
I'm interested in all kind of dance.
What are your plans for future, after you graduate?
After graduation I will start looking for practice from my field of study.
How do you like the classes at the university?
Classes are nice, I can learn a lot here, so I like them.
What is your favourite place in Opole?
Opole is very colorful and nice city, so my favourite place to spending time is Odra River.
Yulia