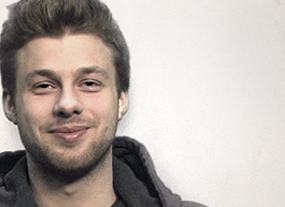 What are you enjoying the most in Opole?
Mostly I'm enjoying my researches, it's very interesting. People from dormitory where we are living (me and rest of my belgium friends) are very kind and it's nice to hang out with them.
Where do you hang out in Opole? What do you do there?
There are a lot of nice pubs to eat and drink, also many great music clubs, so me and my friends are going out there.
Why did you choose Opole University for your Erasmus stay?
My hometown university told me about two places where I can go for Erasmus, my first choice was Sweden, but programme of study wasn't interesting, so I decided to go to Poland and Opole.
What are you interested in? Tell us about your hobbies.
I like hanging out with friends and going to interesting places, jogging and hiking, listening to music and meeting other interesting people.
What are your plans for future, after you graduate?
Oh, I really don't know, because everything is possible.
How do you like the classes at the university?
I'm really enjoying them.
What is your favourite place in Opole?
When I'm going out it's mostly Cina Club, to eat is Manekin, near to main square and there are more nice place to go.
Jochen