Integration Support Office – II Stage
Date of the project's beginning: 01.11.2015
Duration of the project: 24 months
Target group: third-countries citizens that stay on the territory of The Republic of Poland according to Law on Foreigners from 12th December 2013 (with later changes). Details are here.
Aims of the project: according to the guidelines of the European Fund of Refuge, Migration and Integration, and Objectives of the National Program FAMI as well as specific aims, the main aim of the project is to support to implementation and to conduct an effective migration policy at national and EU level, which will lead to deepness and facilitation of the process of integration between third-countries citizens and the host society. Also, it will support in a building of a special platform for intercultural dialogue through actions, directed for immigrants from third countries and citizens of the host society.
Support during the project: Polish language courses at levels B1; B2; C1; services of the translator; legal and psychological counseling; trainings in the knowledge of culture and society; creating the image of employment and effective job searching; legal and economical aspects related to the stay of foreigners on the territory of Poland and countries of the European Union; a certified translation of the documents and additional Polish language classes.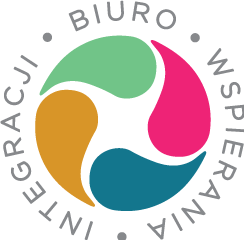 Integration Support Office